Hardware Retail Finance Applications
Are you building, extending, renovating or improving your home?  With an Evolution Finance loan, you have the convenience of financing your homebuilding materials to create your dream home.
With over 600 participating hardware retail stores, country-wide, you can choose where you want to purchase your homebuilding materials with ease.
In-store application process
STEP 1: Visit a participating store
STEP 2: Ask about a Evolution Finance loan from a friendly credit consultant
STEP 3: Check the loan amount you qualify for
STEP 4: Choose your homebuilding materials in store
STEP 5: Complete the Evolution Finance loan application in-store
STEP 6: Get approval within 2 hours*
STEP 7: Evolution Finance will pay the store directly for your homebuilding materials
*Subject to all required documents being submitted when initially applying for the loan and all underwriting criteria being met. 
What you need to apply:
Valid SA ID or driver's license
RICA Registered Cellphone number
Your most recent payslip and bank statement showing latest 3 salary deposits; OR
3 months' bank statements (if you are self-employed)
You can apply if:
You are permanently employed, self-employed or employed under contract
You earn a salary of at least R 3 600 per month & have your salary electronically deposited into a bank account
You are between 18 & 64 years' old
Related Articles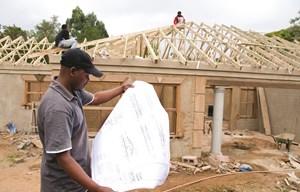 Building your dream home is an exciting project to undertake, especially when you understand the key concepts.
With the external structure of your home building completed, you can now focus on the internal fittings.